E5100 Light Process
Knife Gate Valve
The E5100 Light Process KGV is designed for industrial use as well as the municipal water & wastewater industry. The perimeter seat and transverse seal design ensures reliability and durability in various applications for fluids and light solids. The E5100 is suitable for bidirectional shut-off or dead-end service applications.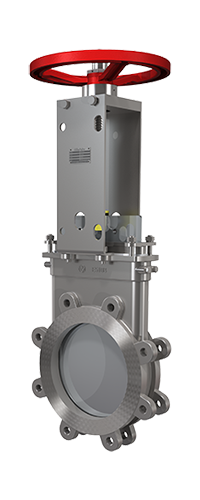 Features & Benefits
Perimeter style seat provides reliable, bidirectional flow/shutoff
Steel reinforced, replaceable seats ensure zero downstream leakage
Full port opening allows maximum throughput and minimizes pressure drop
Positive gate stop ensures seat integrity is maintained
Lockout pin provision ensures operator and maintenance safety
High visibility clevis provides easy identification of valve position
ISO 5211 mounting pattern allows direct mounting of various actuation options including bevel gear, pneumatic or hydraulic cylinders, and electric actuators
Grease fitting on handwheel bearing reduces operating torques
Product Information
Technical Details & Standards
Standard sizes available: 2"–24" (larger sizes available on request)
Cast 304SS or 316SS body
Polished 304SS or 316SS gate
304SS stem and yoke
Steel reinforced, replaceable Viton seat
Braided PTFE packing with adjustable packing follower
150psi standard pressure rating (higher pressure ratings are achieved with alternate components and materials)
Fully lugged, ASME B16.5 Class 150 flange pattern (alternate flange patterns available on request)
AWWA C520 compliant
Meets MSS SP-81 and TAPPI-TIS 405 design requirements
Canadian CRN
Options & Accessories
Higher alloy or hardened gates including 17-4PH, RC50, and Duplex for improved corrosion and wear resistance
Specialty gate coatings including Xylan 1070, Stellite, or hard chrome for improved wear resistance
Alternate seat materials including BUNA-N, EPDM, or Aflas for process compatibility
Cartridge style transverse seal with scrapers and injectable PTFE packing for reduced material buildup and improved sealing
Proximity switches for gate position feedback
Non-rising stem for compact installations
V-port insert for linear flow control
Product
Actuator/Details
Drawing No.
Downloads
E5100 Light Process KGV
Chainwheel
E51XXXXXC-XX (2in-24in)
PDF
E5100 Light Process KGV
Bevel Gearbox
E51XXXXXG-XX (2in-24in)
PDF
E5100 Light Process KGV
Hydraulic Cylinder
E51XXXXXH-XX (2in-24in)
PDF
E5100 Light Process KGV
Pneumatic Cylinder
(General Purpose)
E51XXXXXP(G)-XX (2in-24in)
PDF
E5100 Light Process KGV
Handwheel
E51XXXXXW-XX (2in-24in)
PDF
Industrial/Municipal applications
Uni/bidirectional, resilient or metal seat
Stainless steel or high alloy body
150psi max pressure/MSS SP-81
2" to 60" (larger on request)
Pulp & Paper/Mining/Power/Oil & Gas – severe service applications
Bidirectional shut-off
Perimeter seat with transverse seal design
SS or high alloy body and gate materials
Class 150 /MSS SP-135
2" to 24" (larger on request)
Pulp & Paper/Industrial – high wear applications
Unidirectional, hardened seat ring
Stainless steel or high alloy body
Class 150/MSS SP-135
2" to 24" (larger on request)
© Elite Valve, Oakville, ON, Canada. All rights reserved. All valves information and its contents hereof are proprietary to Elite Valve. Any unauthorized reproduction or disclosure, in whole or in part is strictly prohibited. All valves materials, images and data sheets in this catalogue / brochure is for general information and shall not be used for specific performance data and material selection without first consulting with Elite Valve. Elite Valve reserves the right to change the enclosed valves information without notice. Elite Valve does not accept any liability or damages arising from the use of any valve information within this document. All trademarks and registered trademarks are owned by their respective companies.